Placemaking Charter
The Placemaking Wales Charter has been developed by Welsh Government and the Design Commission for Wales in collaboration with the Placemaking Wales Partnership – a multi-disciplinary group representing professions and organisations working within the built and natural environment.
The Charter builds on the strengthening focus on Placemaking in policy and practice in Wales and aims to provide a common understanding of the range of considerations that go into placemaking. The charter outlines six placemaking principles that cover the range of considerations that contribute to establishing and maintaining good places.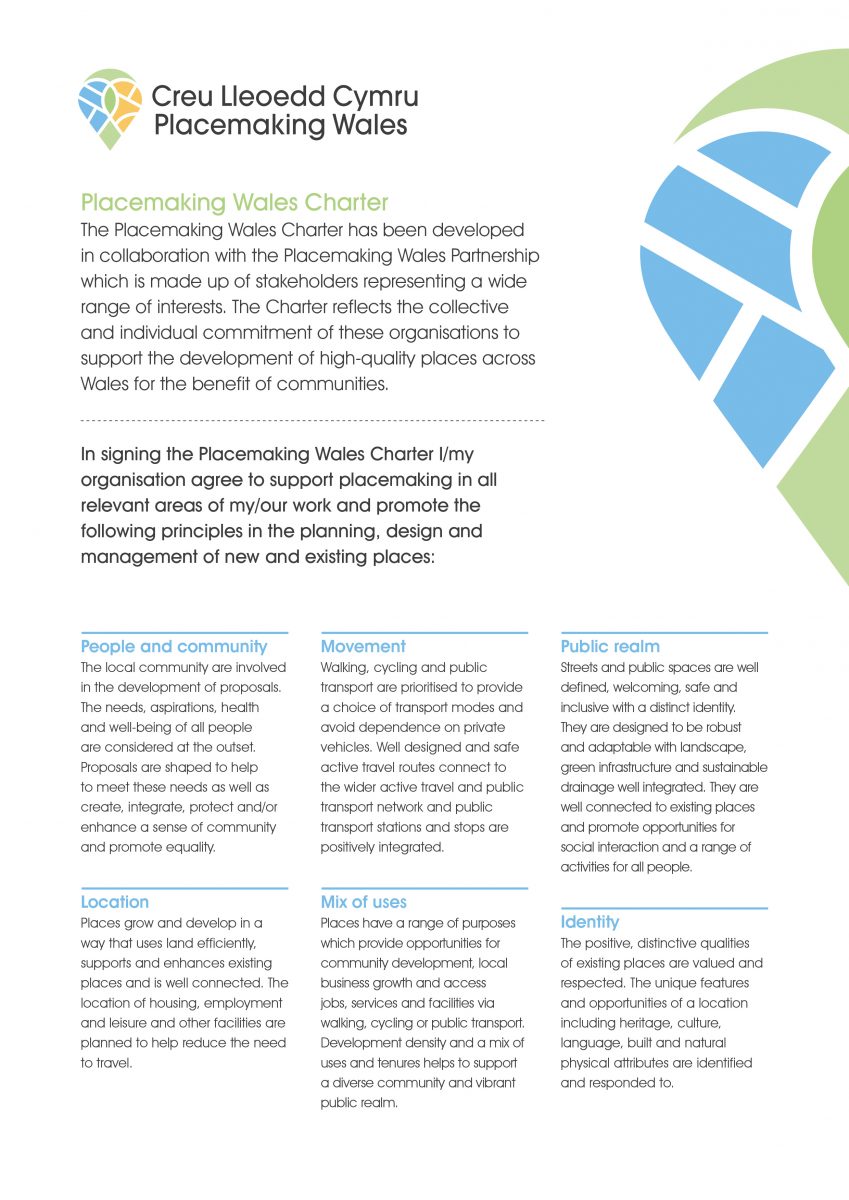 Signing up to the charter
We welcome any organisation involved in delivering places or shaping the built environment to sign up to the charter. To do this please email placemakingwales@dcfw.org stating that, having considered the wording of the Charter, your organisation has agreed to sign up to the principles. Once this has been received the name of your organisation will be added to the list of signatories on the website and you will be sent the Charter logo to use. Your contact details will be added to the Charter Signatories contact list and you will receive relevant news and information unless you wish to opt out.
Please send the following details:
Contact Name:
Organisation:
Contact Email Address:
Agreement: In signing the Placemaking Wales Charter [organisation name] agrees to support placemaking in all relevant areas of our work and promote the six placemaking principles in the planning, design and management of new and existing places
The spirit of the partnership of one of mutual support, encouragement, and positive action. Signatories are expected to promote and uphold the principles of the charter in all of their work.
Signatories
The following organisations have signed up to the Placemaking Wales Charter:
AHR Architects
Ainsley Gommon Architects
Alt-Architecture
Arden Kitt Associates Ltd
Arup
Austin-Smith:Lord
Barton Willmore
BDP
Benham Architects
Benjamin Hale Architects
Bron Afon Housing Association
Building with Nature *
C2J Architects and Town Planners
Cadw *
Cadwyn Housing Association
Candleston Homes
Cardiff Community Housing Association
Cardiff University *
Carmarthenshire County Council
CFW Architects
Chamberlain Moss King Architecture
Chartered Institute of Housing (CIH) *
Chartered Institution of Highways & Transportation (CIHT) *
Chartered Institute of Logistics and Transport (CILT) *
Childs Sulzmann Architects
Chris Jones
Clwyd Alyn
Coastal Housing Group
Commonplace
Community Housing Cymru (CHC) *
Creu Architecture
Cwmpas
Dandara West Ltd
Design Commission for Wales
Dow Jones Architects
Down to Earth Project
Edenstone Group
First Choice Housing Association Ltd
Future Generations Commissioner for Wales' Office *
Federation of Master Builders (FMB) *
FOR Cardiff
Fraser Strategic Land
Gaunt Francis Architects
George and Co
Good Homes Alliance
GRIMSHAW Architects
Grŵp Cynefin
Hammond Architectural Ltd
Highlight Planning
HILLS + CO
HLN Ltd
Holder Mathias Architects
Home Builders Federation (HBF) *
Housing Learning and Improvement Network (LIN)
Hughes Architects
Hughes:O'Hanlon Architects
Huw Griffiths Architects
IBI Group
Institute of Highways Engineers *
Institution of Civil Engineers (ICE) *
Jackson Concepts
John McCall Architects
KJG Architects
Knight Architects
Landscape Institute (IL) *
Land Studio Ltd
Lawray Architects
LDA Consulting Ltd
Lightwood Planning
Linc Cymru
Lovell Partnerships Ltd
Loyn + Co Architects
Mace Group
Maindee Unlimited
Melin Homes
Merthyr Valleys Homes
Midas Group Ltd
Miller Research (UK) Ltd
Monmouthshire County Council
Mott MacDonald Ltd
Nash Partnership
Natural Resources Wales (NRW) *
National Infrastructure Commission for Wales (NICfW) *
Neath Port Talbot Council
Newport City Homes
Newydd Housing Association
One Newport PSB
OPEN (Optimised Environments Ltd)
Owen Davies Consulting Ltd
Oxford Architects
Penarth Civic Society
Penarth Living Streets
Pentan Architects
PER Consulting Ltd
Persimmon Homes East Wales
Persimmon Homes West Wales
Planning Aid Wales *
Planning Officers Society for Wales (POSW) *
Play Wales *
PLPlanning
Pobl
Powell Dobson Architects
Ramblers Cymru
Red River Archaeology
Redrow Homes Limited
Rhondda Housing Association
Richards Moorehead and Laing Ltd
Ritchie*Studio
Roberts Limbrick
Royal Institute of Chartered Surveyors (RICS) *
Royal Society of Architects in Wales (RSAW) *
Royal Town Planning Institute (RTPI) *
Saer Architects
SaveTheHighStreet.org
Spring Design Consultancy Limited
St. Modwen Developments Ltd
Starki Limited
Stiwdio Owens
Stride Treglown
Studio Response
Studio Walmsley Architects
Sustrans *
Swansea Council
Tir Collective Landscape Architects
Tirion Homes
The Architectural Heritage Fund
The Environmental Dimension Partnership (EDP)
The Means
The Open Spaces Society
The Three National Parks of Wales
The Urbanists
Torfaen County Borough Council
Transport for Wales *
United Welsh
Urban Foundry
Vale of Glamorgan Council
Valleys to Coast
Vectos
Wates Residential
Wei Yang + Partners
Welsh Local Government Association *
Welsh Government *
Wrexham County Borough Council
( * Members of the Placemaking Wales Partnership)