Sgroliwch i lawr ar gyfer y Gymraeg / Scroll down for Welsh
Placemaking Charter
The Placemaking Wales Charter has been developed by Welsh Government and the Design Commission for Wales in collaboration with the Placemaking Wales Partnership – a multi-disciplinary group representing professions and organisations working within the built and natural environment.
The Charter builds on the strengthening focus on Placemaking in policy and practice in Wales and aims to provide a common understanding of the range of considerations that go into placemaking. The charter outlines six placemaking principles that cover the range of considerations that contribute to establishing and maintaining good places.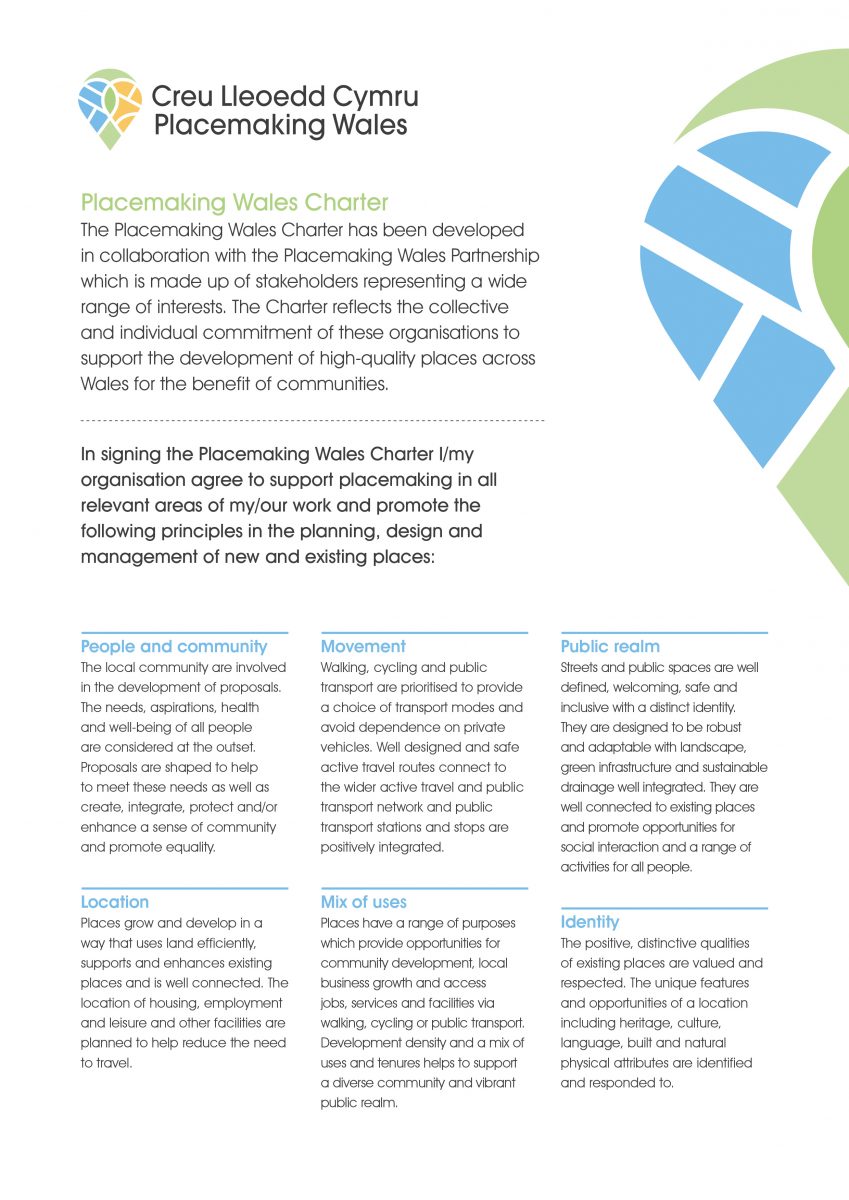 Signing up to the charter
We welcome any organisation involved in delivering places or shaping the built environment to sign up to the charter. To do this please email placemakingwales@dcfw.org stating that, having considered the wording of the Charter, your organisation has agreed to sign up to the principles. Once this has been received the name of your organisation will be added to the list of signatories on the website and you will be sent the Charter logo to use. Your contact details will be added to the Charter Signatories contact list and you will receive relevant news and information unless you wish to opt out.
Please send the following details:
Contact Name:
Organisation:
Contact Email Address:
Agreement: In signing the Placemaking Wales Charter [organisation name] agrees to support placemaking in all relevant areas of our work and promote the six placemaking principles in the planning, design and management of new and existing places
The spirit of the partnership of one of mutual support, encouragement, and positive action. Signatories are expected to promote and uphold the principles of the charter in all of their work.
Signatories
The following organisations have signed up to the Placemaking Wales Charter:
Ainsley Gommon Architects
Alt-Architecture
Arden Kitt Associates Ltd
Barton Willmore
BDP
Benjamin Hale Architects
Building with Nature
C2J Architects and Town Planners
Cadw
Cadwyn Housing Association
Candleston Homes
Cardiff Community Housing Association
Cardiff and Vale Health Board
Cardiff University
CFW Architects
Chamberlain Moss King Architecture
Chartered Institute of Housing (CIH)
Chartered Institution of Highways & Transportation (CIHT)
Chartered Institute of Logistics and Transport (CILT)
Chris Jones
Clwyd Alyn
Commonplace
Community Housing Cymru (CHC)
Design Commission for Wales
Edenstone Group
Future Generations Commissioner for Wales' Office
Federation of Master Builders (FMB)
FOR Cardiff
Gaunt Francis Architects
George and Co
Good Homes Alliance
Hammond Architectural Ltd
Home Builders Federation (HBF)
Hughes Architects
Huw Griffiths Architects
Institute of Highways Engineers
Institution of Civil Engineers (ICE)
Landscape Institute (IL)
Lawray Architects
Lovell Partnerships Ltd
Jackson Concepts
KJG Architects
Knight Architects
Melin Homes
Miller Research (UK) Ltd
Mott MacDonald Ltd
Natural Resources Wales (NRW)
National Infrastructure Commission for Wales (NICfW)
Newport City Homes
One Newport PSB
Oxford Architects
Pentan Architects
Persimmon Homes East Wales
Planning Aid Wales
Planning Officers Society for Wales (POSW)
Play Wales
PLPlanning
Pobl
Powell Dobson Architects
Ramblers Cymru
Red River Archaeology
Rhondda Housing Association
Richards Moorehead and Laing Ltd
Royal Institute of Chartered Surveyors (RICS)
Royal Society of Architects in Wales (RSAW)
Royal Town Planning Institute (RTPI)
Spring Design Consultancy Limited
Starki Limited
Stiwdio Owens
Stride Treglown
Studio Response
Sustrans
Swansea Council
Tirion Homes
The Architectural Heritage Fund
The Open Spaces Society
The Urbanists
Transport for Wales
Urban Foundry
Wales Co-operative Centre
Wates Residential
Welsh Local Government Association
Welsh Government
Siarter Creu Lleoedd
Mae Siarter Creu Lleoedd Cymru wedi cael ei datblygu gan Lywodraeth Cymru a Chomisiwn Dylunio Cymru mewn cydweithrediad â Phartneriaeth Creu Lleoedd Cymru – sef grŵp amlddisgyblaethol sy'n cynrychioli proffesiynau a sefydliadau sy'n gweithio o fewn yr amgylchedd adeiledig a naturiol.
Mae'r Siarter yn adeiladu ar y ffocws ar gryfhau ar Greu lleoedd mewn polisi ac ymarfer yng Nghymru, a'i nod ydy darparu dealltwriaeth gyffredin o'r ystod o ystyriaethau sy'n cael eu defnyddio i greu lleoedd. Mae'r siarter yn amlinellu chwe egwyddor creu lleoedd sy'n cwmpasu'r ystod o ystyriaethau sy'n cyfrannu at sefydlu a chynnal lleoedd da.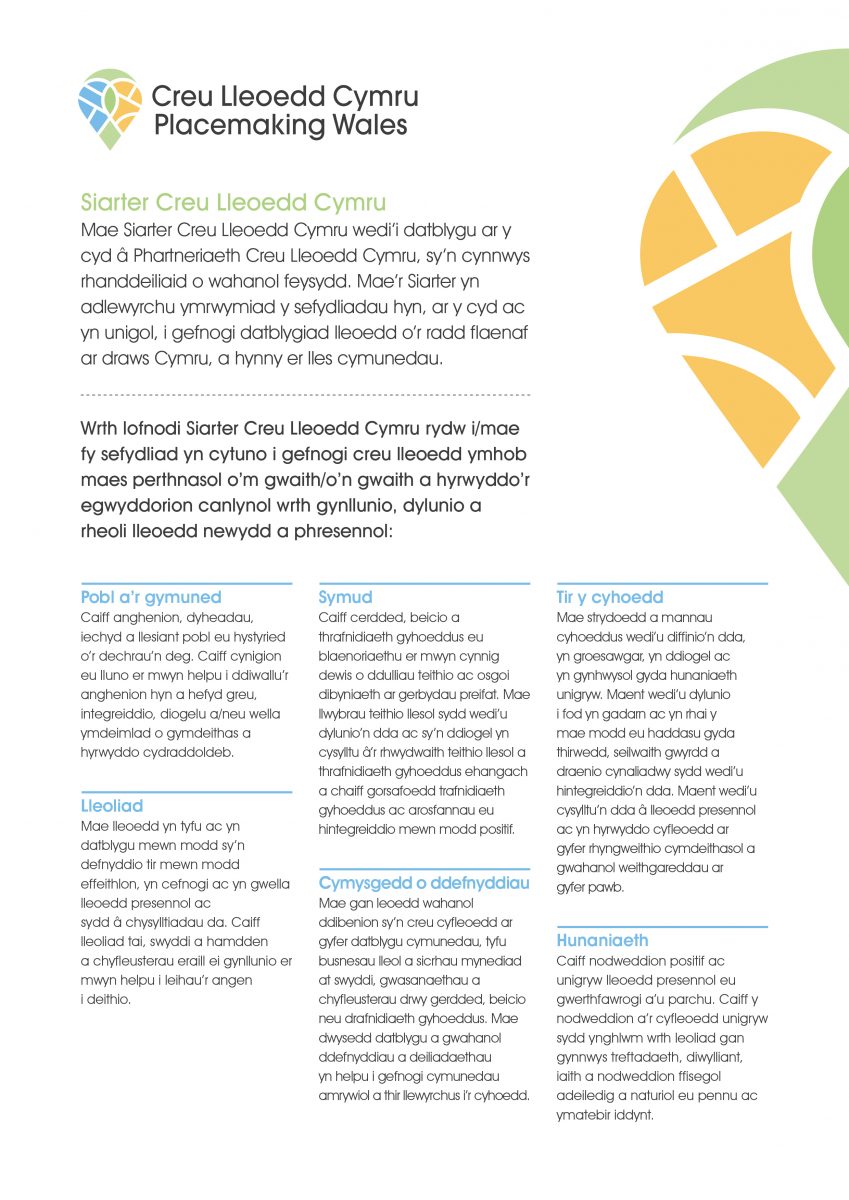 Ymrwymo i'r siarter
Rydym yn croesawu unrhyw sefydliad sy'n ymwneud â chreu lleoedd neu lunio'r amgylchedd adeiledig i ymrwymo i'r siarter. I wneud hyn, anfonwch e-bost at placemakingwales@dcfw.org yn dweud, ar ôl ystyried geiriad y Siarter, bod eich sefydliad wedi cytuno i ymrwymo i'r egwyddorion. Unwaith y bydd hyn wedi cael ei dderbyn, bydd enw eich sefydliad yn cael ei ychwanegu at y rhestr o lofnodwyr ar y wefan, a bydd logo'r Siarter yn cael ei anfon atoch chi i'w ddefnyddio. Bydd eich manylion cyswllt yn cael eu hychwanegu at restr gyswllt Llofnodwyr y Siarter, a byddwch yn derbyn newyddion a gwybodaeth berthnasol, oni bai eich bod chi'n dymuno optio allan.
Anfonwch y manylion canlynol:
Enw Cyswllt:
Sefydliad:
Cyfeiriad E-bost Cyswllt:
Cytundeb: Wrth lofnodi Siarter Creu Lleoedd Cymru, mae [enw'r sefydliad] yn cytuno i gefnogi'r gwaith o greu lleoedd ym mhob maes perthnasol o'n gwaith, ac i hyrwyddo'r chwe egwyddor creu lleoedd wrth gynllunio, dylunio a rheoli lleoedd newydd a lleoedd sy'n bodoli'n barod.
Mae ysbryd partneriaeth yn un o gyd-gefnogaeth, anogaeth a gweithredu cadarnhaol. Disgwylir i'r llofnodwyr hyrwyddo a chynnal egwyddorion y siarter yn eu holl waith.
Llofnodwyr
Mae'r sefydliadau canlynol wedi ymrwymo i Siarter Creu Lleoedd Cymru:
Ainsley Gommon Architects
Alt-Architecture
Arden Kitt Associates Ltd
Barton Willmore
BDP
Benjamin Hale Architects
Building with Nature
C2J Architects and Town Planners
Cadw
Cadwyn Housing Association
Candleston Homes
Cardiff Community Housing Association
Cardiff and Vale Health Board
Cardiff University
CFW Architects
Chamberlain Moss King Architecture
Chartered Institute of Housing (CIH)
Chartered Institution of Highways & Transportation (CIHT)
Chartered Institute of Logistics and Transport (CILT)
Chris Jones
Clwyd Alyn
Commonplace
Community Housing Cymru (CHC)
Design Commission for Wales
Edenstone Group
Future Generations Commissioner for Wales' Office
Federation of Master Builders (FMB)
FOR Cardiff
Gaunt Francis Architects
George and Co
Good Homes Alliance
Hammond Architectural Ltd
Home Builders Federation (HBF)
Hughes Architects
Huw Griffiths
Institute of Highways Engineers
Institution of Civil Engineers (ICE)
Jackson Concepts
KJG Architects
Knight Architects
Landscape Institute (IL)
Lawray Architects
Lovell Partnerships Ltd
Melin Homes
Miller Research (UK) Ltd
Mott MacDonald Ltd
Natural Resources Wales (NRW)
National Infrastructure Commission for Wales (NICfW)
Newport City Homes
One Newport PSB
Oxford Architects
Pentan Architects
Persimmon Homes East Wales
Planning Aid Wales
Planning Officers Society for Wales (POSW)
Play Wales
PLPlanning
Pobl
Powell Dobson Architects
Ramblers Cymru
Red River Archaeology
Rhondda Housing Association
Richards Moorehead and Laing Ltd
Royal Institute of Chartered Surveyors (RICS)
Royal Society of Architects in Wales (RSAW)
Royal Town Planning Institute (RTPI)
Spring Design Consultancy Limited
Starki Limited
Stiwdio Owens
Stride Treglown
Studio Response
Sustrans
Swansea Council
Tirion Homes
The Architectural Heritage Fund
The Open Spaces Society
The Urbanists
Transport for Wales
Urban Foundry
Wales Co-operative Centre
Wates Residential
Welsh Local Government Association
Welsh Government