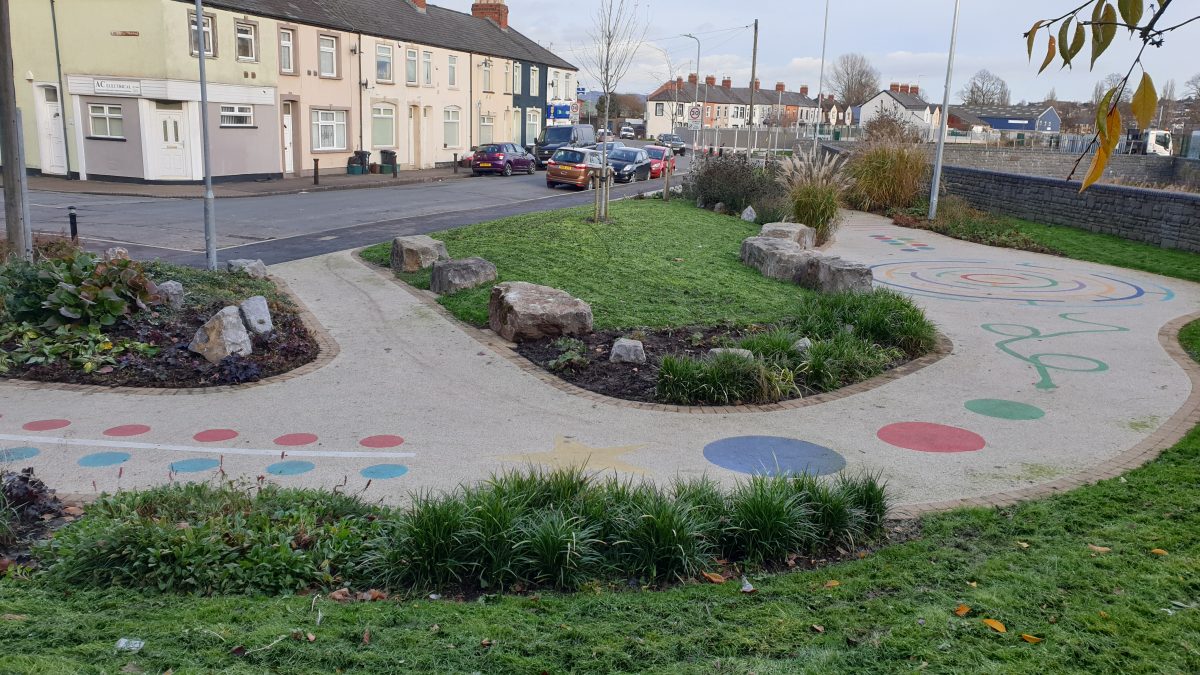 Placemaking and Climate resilience on the Crindau Flood Alleviation Scheme, Newport
Laura Cotton, Natural Resources Wales
How do you 'placemake' a flood alleviation project?
Flood schemes can cover large areas; often intertwined with well-used public spaces.  The flood protection element is hopefully only used infrequently, but the built structures are permanently in place for the community during their daily lives.  Considering placemaking during objective setting and design could help build more successful flood schemes, and improve the local environment.
Since this project was completed, the Crindau community of Newport is now better protected from flooding. Over Six hundred properties have reduced flood risk as a result of 2.6 km of new flood walls and embankments.  Consideration of climate change resilience and sea level rise in the design will ensure that the flood risk benefit will be maintained for another 100 years.
This article briefly explains some of the benefits delivered beyond the flood remit – supporting wider wellbeing, environmental and sustainability objectives.
Landscape Design and Placemaking
The project needed to provide flood protection, but also equally important was our vision to improve a deprived area to create better spaces for people.  Critical to the success was appointing environmental advisors and landscape architects early -  to help shape the project objectives and design.
A derelict working men's club was demolished, allowing part of the site to  become an amenity area containing colourful planting and informal play features.   Unsafe areas were improved through design, such as the removal of old garages, a disused toilet block and demolition of two decaying industrial buildings – introducing light and a better feeling of space.  Large amounts of contaminated waste were removed. Areas subject to fly tipping and drug use were modified so that the community would feel safer.  For example, an area under a road flyover was made more 'friendly' by removing walls, re-landscaping and providing new lighting columns. A children's play area was made safer by fencing it from the river and upgrading safety matting around play equipment.
Other new features provided a safer connection for people walking between the community, Shaftsbury Park and the City.  We improved several cycleways, footpaths and created new ones.
Consideration was given to how the flood defences would reflect their setting. The finishes therefore change from steel in the more industrial settings, to different types and colours of stone and bricks in more public areas, that tied in with existing brick work on properties. This created high quality urban finishes in places that previously  were neglected. The gates at Shaftsbury Park were replaced with a bespoke design manufactured locally and old Victorian railings were replaced.
Amenity
We integrated measures to improve access and quality of greenspaces.  Planting of trees, bulbs and wildflowers provided colour, interest and biodiversity benefits.
The flood defence around Shaftesbury Park integrated amphitheatre style seating providing a viewpoint overlooking sports pitches, making them multi-purpose.
We hope to deliver improvements to another area of Newport during our flood works in Liswerry next year and in other communities across Wales.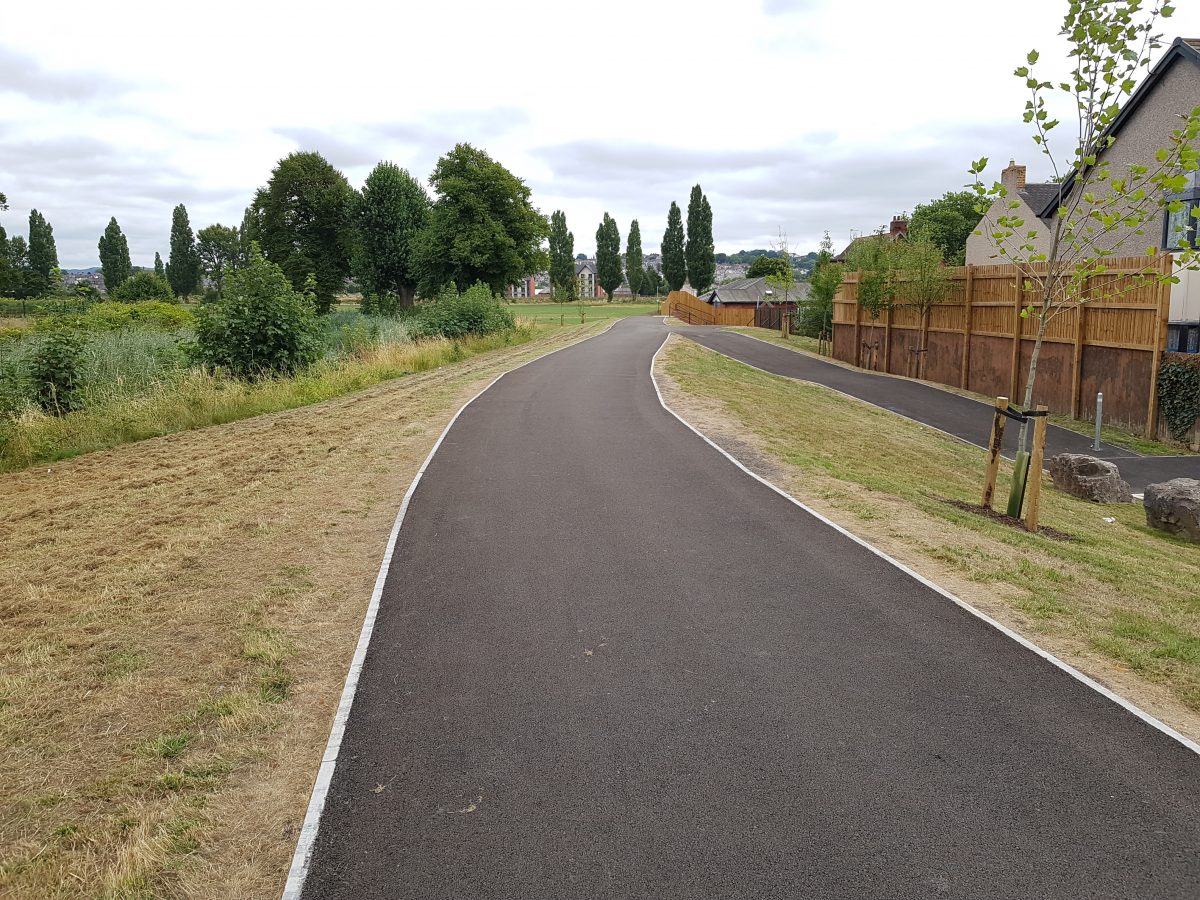 (Above) The improved path on the crest of the flood defence through Shaftsbury park.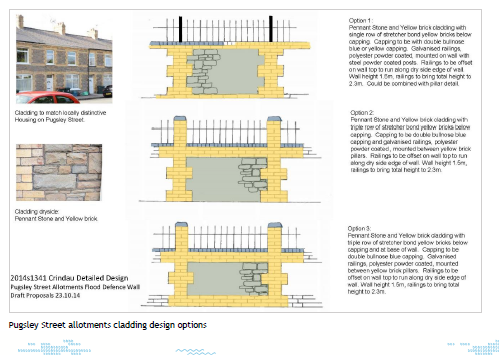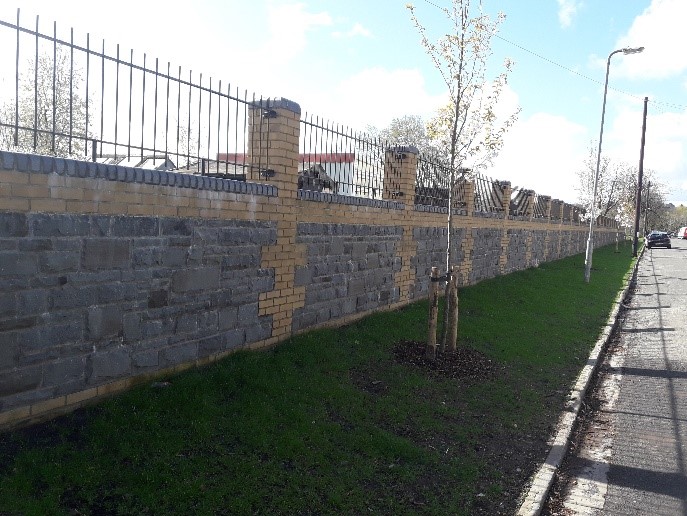 (Above) Photograph shows the design stage of the project. It was identified that the brickwork on Pugsley street was a feature that could be replicated in the flood defence design. Second photograph shows the completed wall prior to landscaping.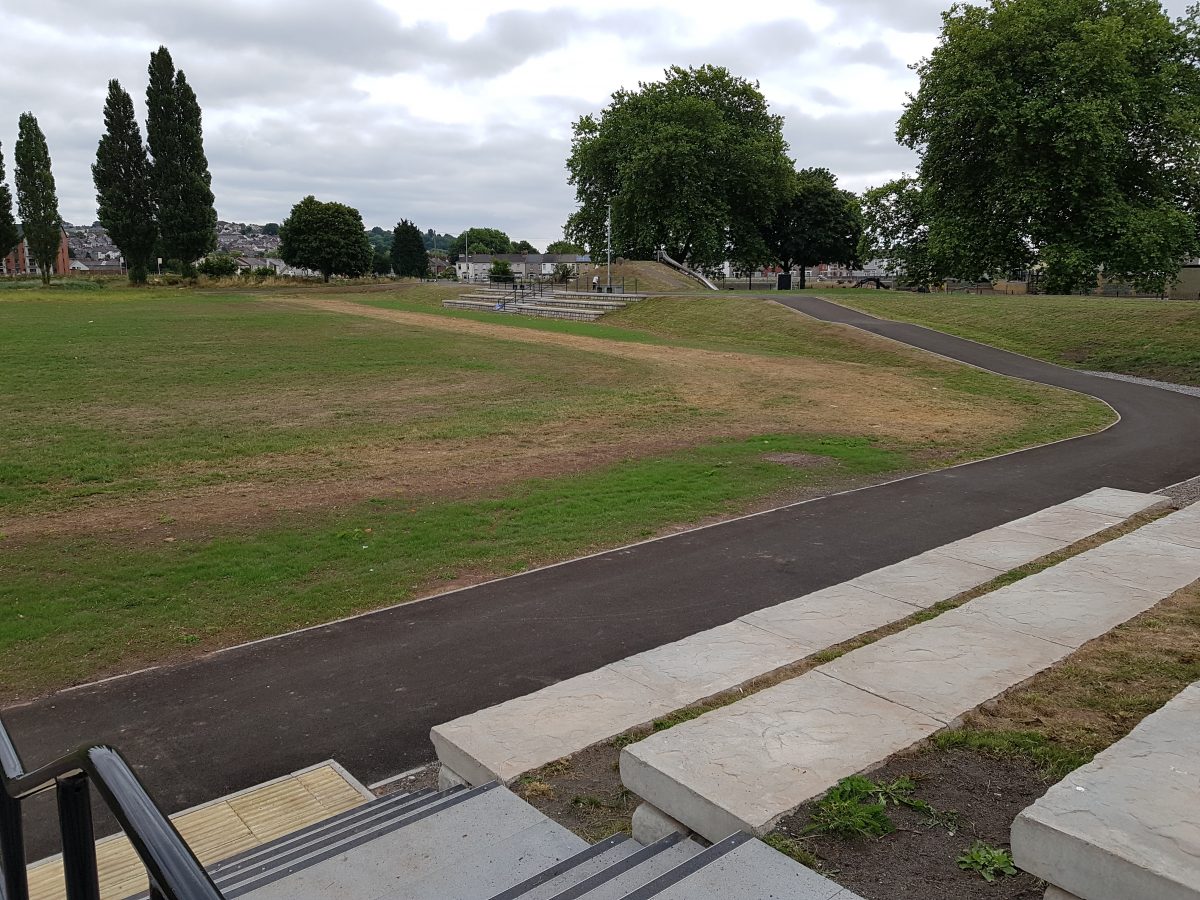 (Above) Amphitheatre style seating integrated within the flood defence.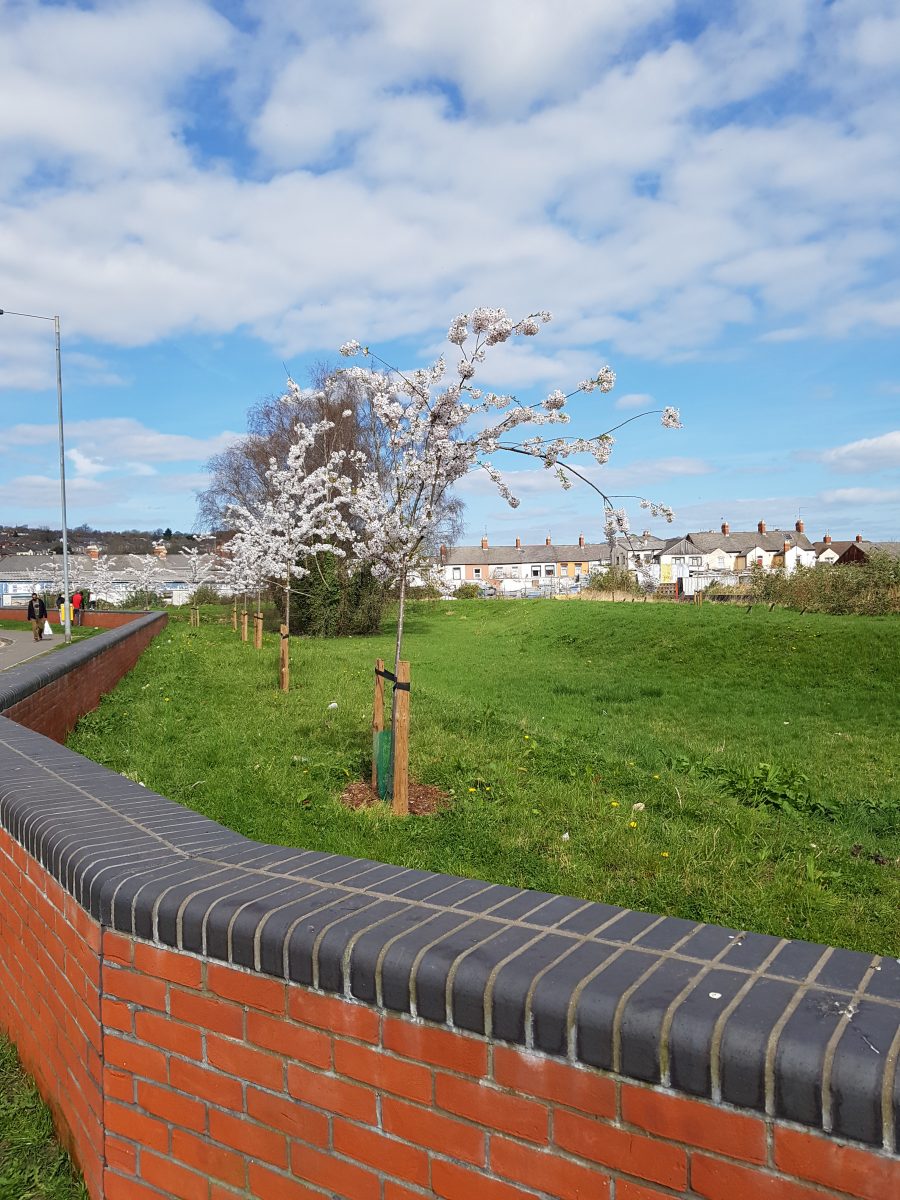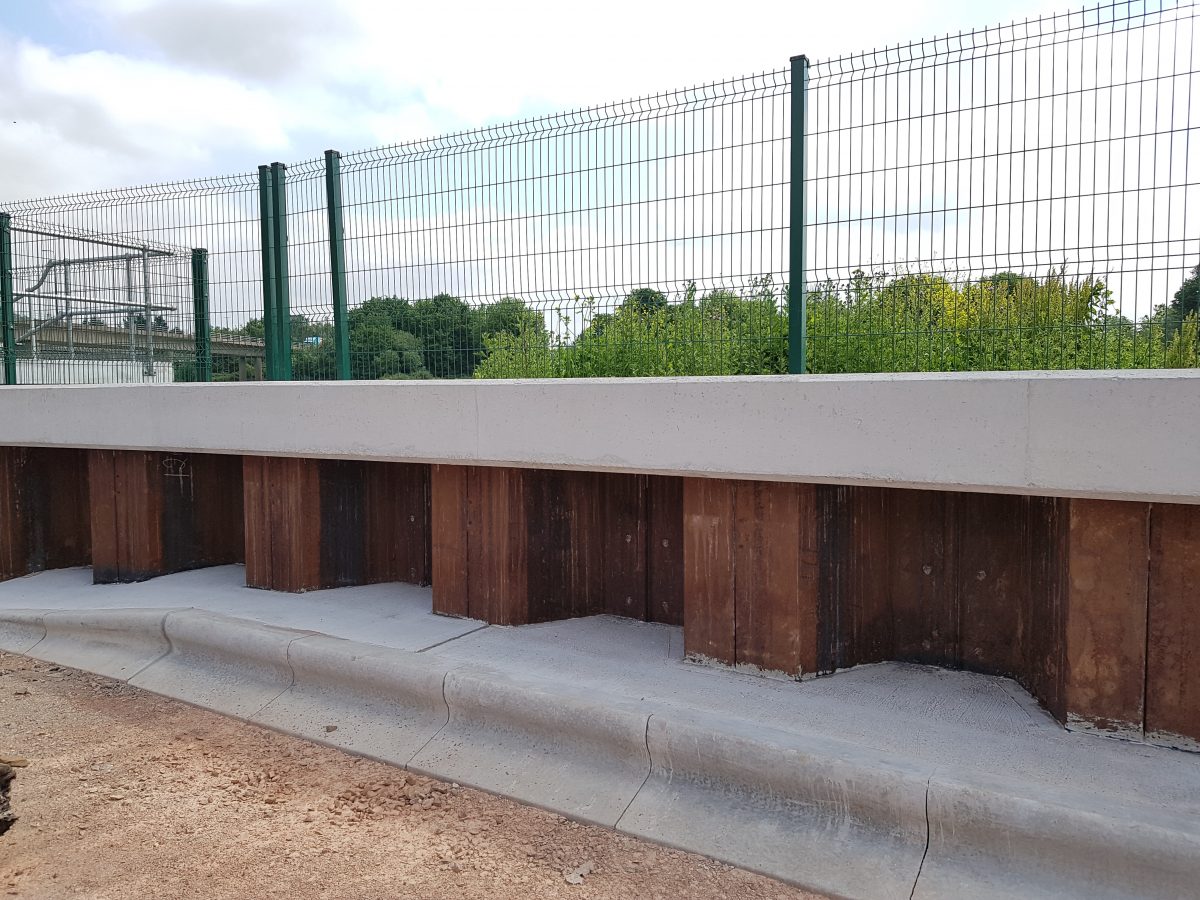 (Above) Red brick finish at Lyne Road and robust piling and finishes (concrete kerbs) needed within the industrial area off Albany Street. A fence is needed to prevent fly tipping onto the riverbank and increase security for the businesses.