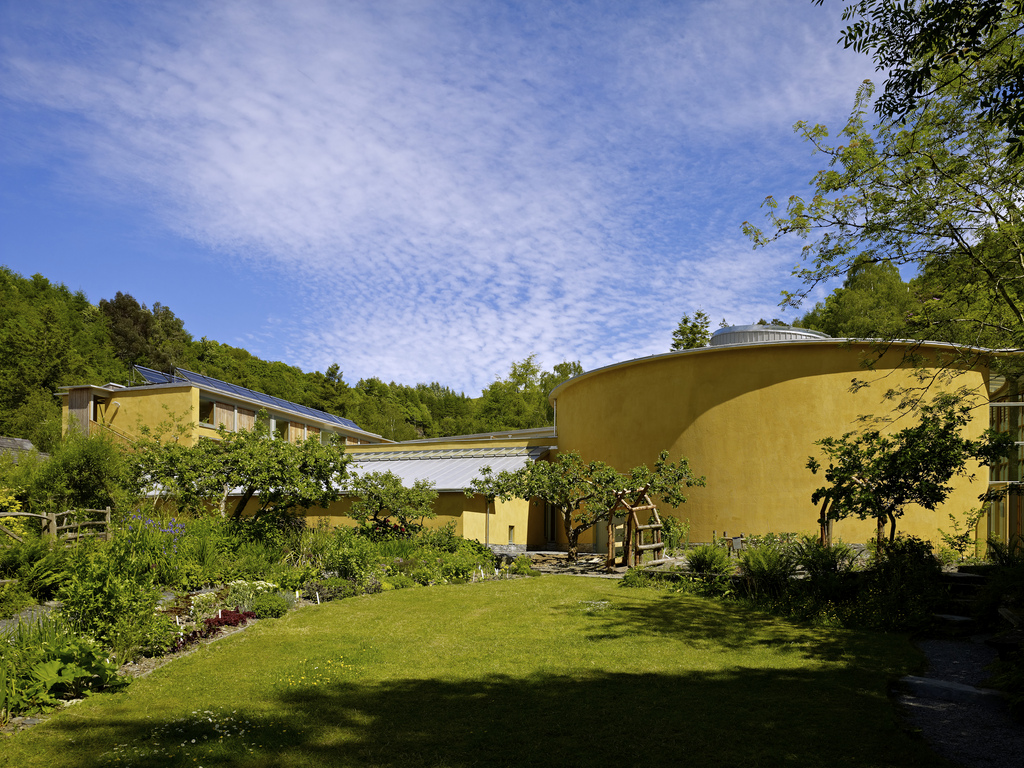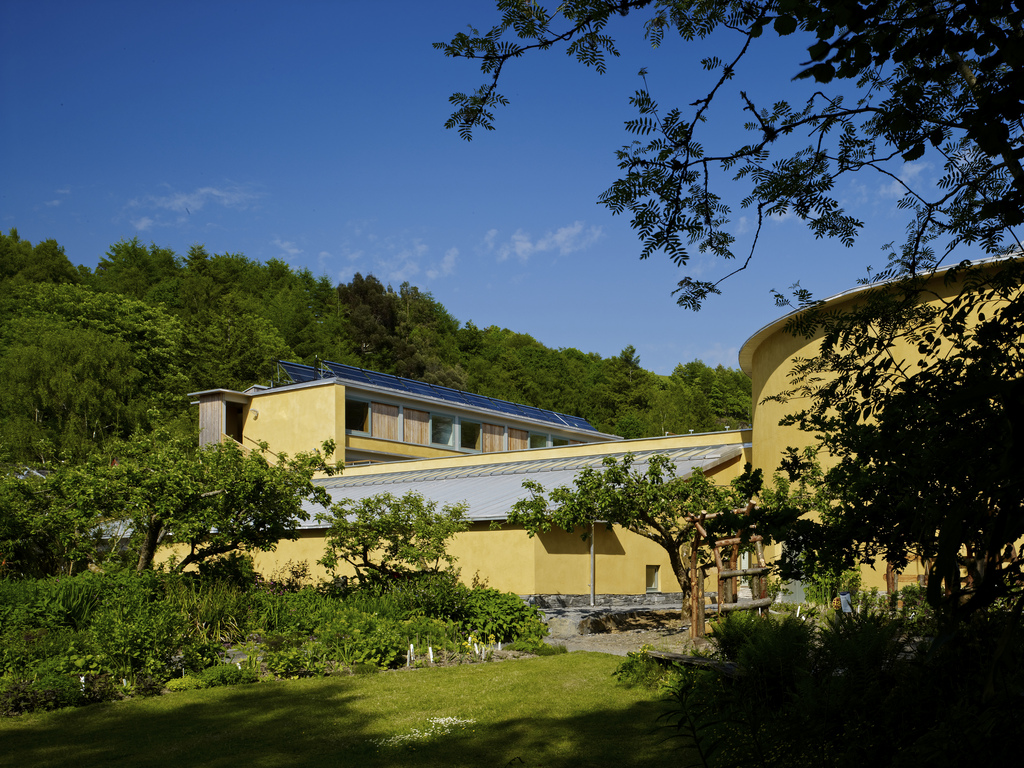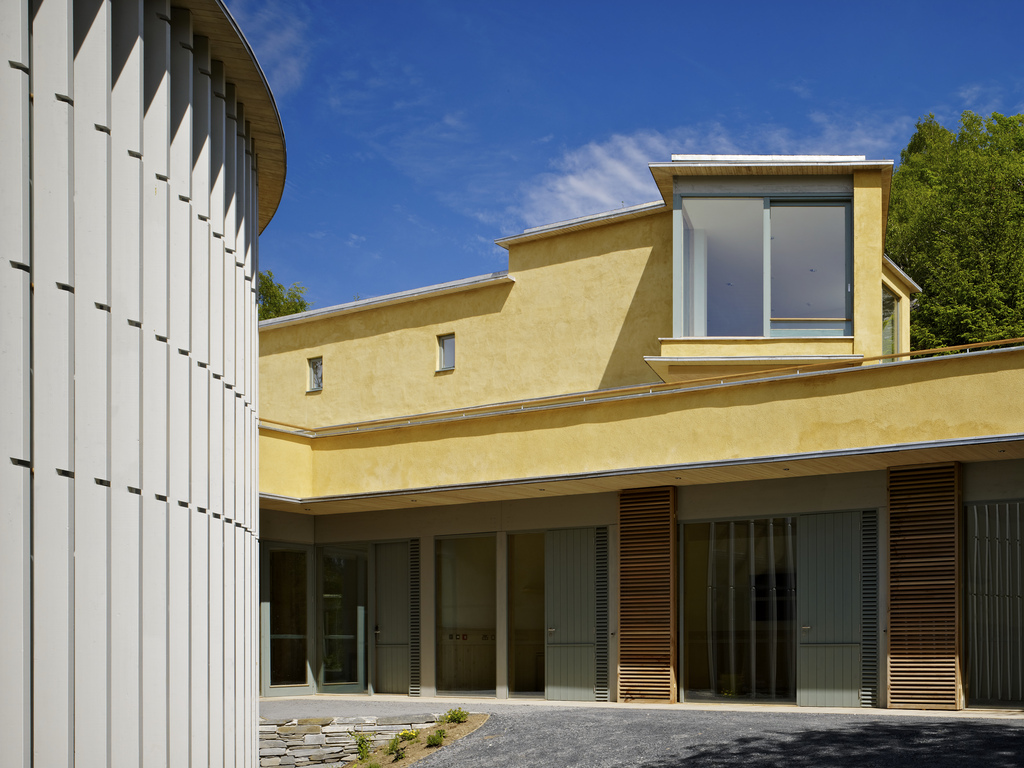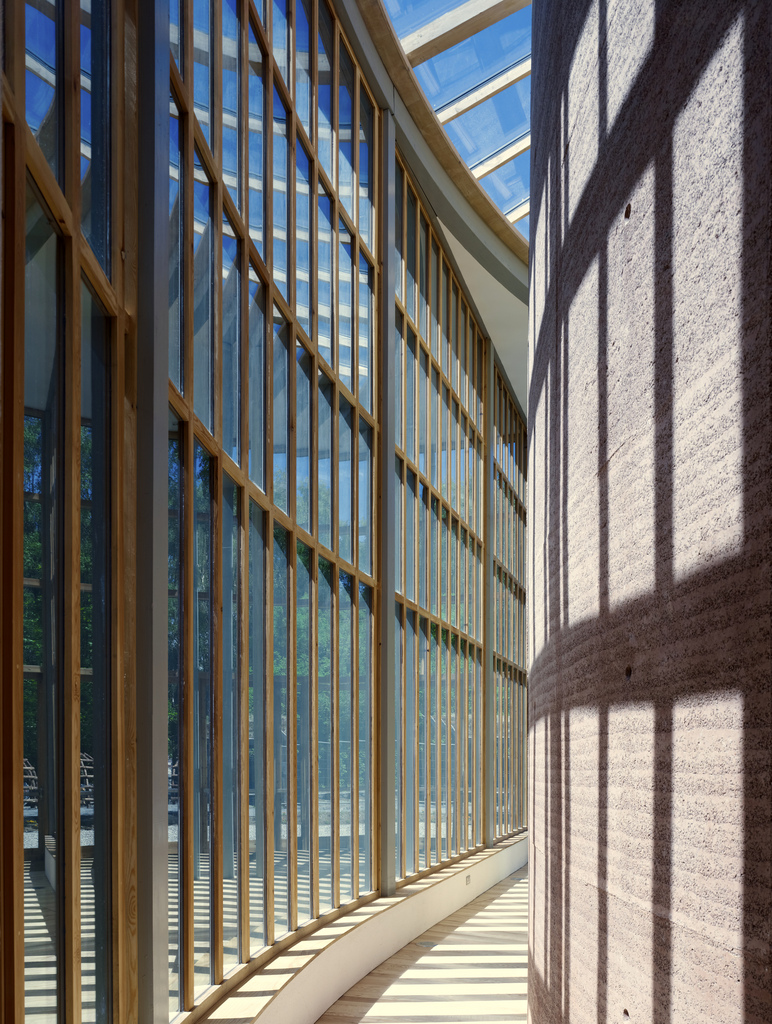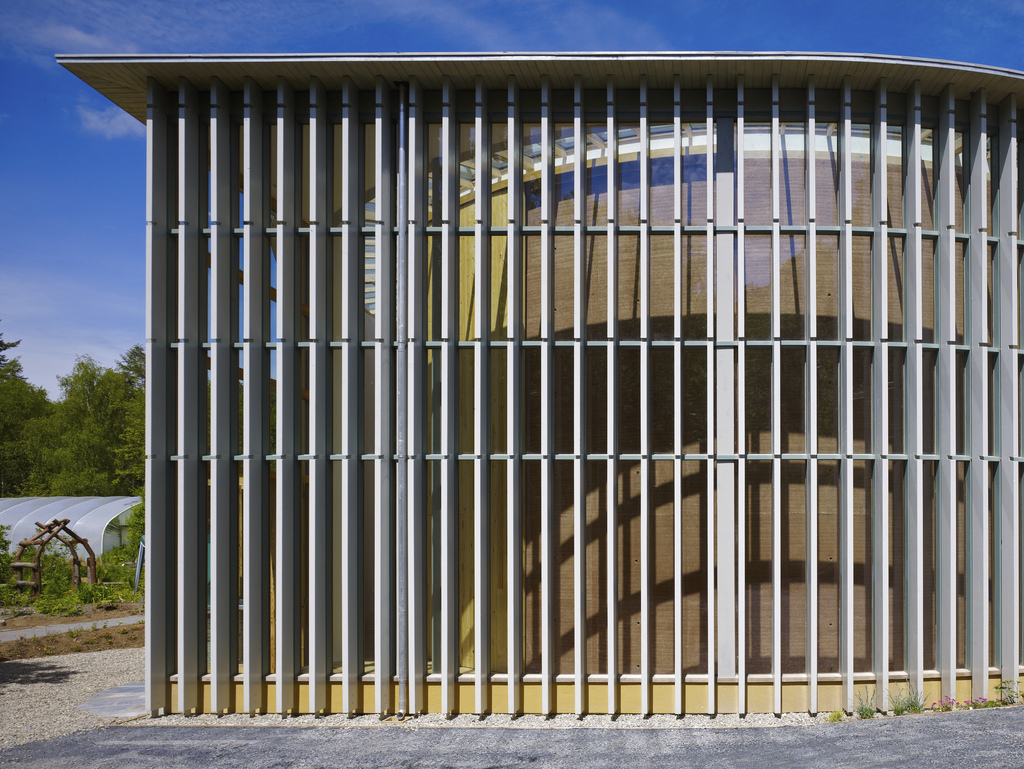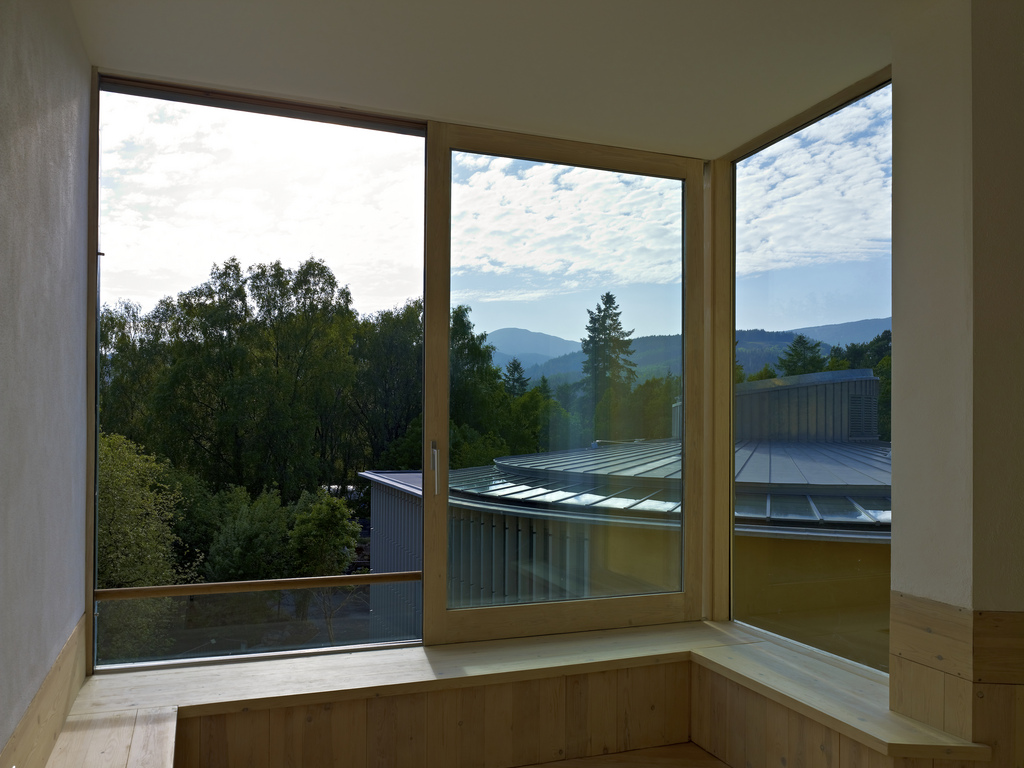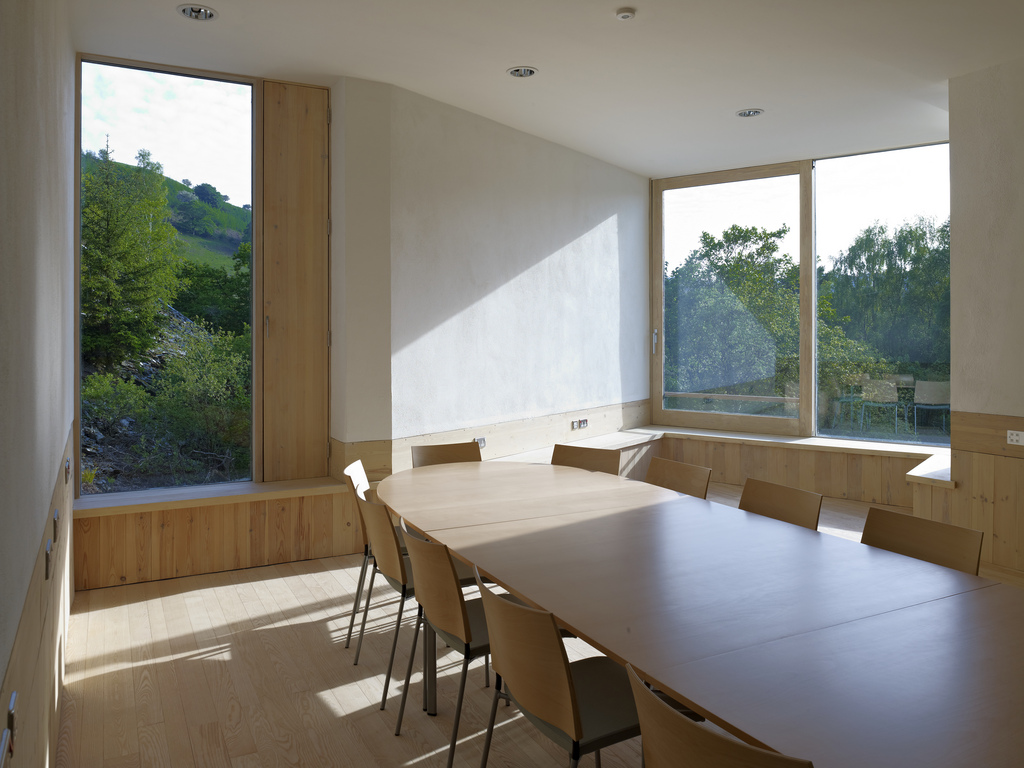 Wales Institute for Sustainable Education Centre for Alternative Technology
The Wales Institute for Sustainable Education provides a state of the art environmental education centre, drawing on the Centre for Alternative Technology's (CAT) 30 years' experience to educate a wide range of participants in the principles of sustainable development. CAT demonstrates ecologically sustainable technology and methods of building to the public from its 40-acre site in the hills of Machynlleth, mid- Wales. The centre is managed on co-operative principles and the CAT site comprises practical demonstrations of sustainable living. CAT receives around 65,000 visitors every year, who come to learn about its work and take part in courses at the centre.
Planning and Design Process

Collaboration

The brief and design were evolved using 'Planning for Real' techniques (developed by the Neighbourhood Initiatives Foundation), involving the whole CAT staff body.

Brief

WISE will provide people the opportunity to gain vital skills in emerging environmental technologies through its Graduate School of the Environment and short courses. The brief was to provide the following accommodation; 200 seat lecture theatre, 3 workshops, 3 seminar rooms, bio-laboratory, common room/Foyer/Bar, offices for the WISE education staff, 24 double study bedrooms and service accommodation.

Landscape context

Although the site is an unpromising solar one (on the north side of a steep Welsh valley), it has great charm because it was undeveloped waste land for 50 years and has been colonised with diverse species of vegetation and wildlife. The scheme reflects this by creating inward and outward-looking external spaces and framing views of distant mountains. The slate-waste ground conditions allowed the building to be close to existing trees without fear of subsidence – a characteristic which has been exploited.

Sustainability Outcomes

Materials

WISE uses natural building materials and methods such as rammed earth in the dramatic curvilinear walls of the lecture theatre, hemp, lime and timber throughout the accommodation and main teaching areas. The sensitive architecture approach achieves a light, warm building.

Passive

The building design has an extremely well insulated and air-tight enclosure and uses high-performance glazing to enhance natural day-light and passive heat gain, meaning that energy requirements are minimal.

Natural treatment

Waste and water systems are designed using natural zero energy treatment.

Renewable technologies

The energy sources for space and water heating are either direct solar or bio-fuels. Electricity comes from CAT's own renewable supply (hydro, wind, PVs and wood-chip CHP).

Related Links
Graduate School of the Environment

Client: Centre for Alternative Technology

Architect: Pat Borer and David Lea. For further information on the design and delivery team, please contact the Architects.

Date of Completion: Summer 2010

Contract value: £4.5m

Site Area: CAT 15ha, WISE 0.2ha

Awards: Nominated for the European Union's Mies Van der Rohe award for contemporary arhitecture. Listed as the favourite completed building of 2010 by the Architects Journal. Daily Telegraph's building of the year 2010. It came 4th in the Guardian's top 10 buildings of 2010.
Back