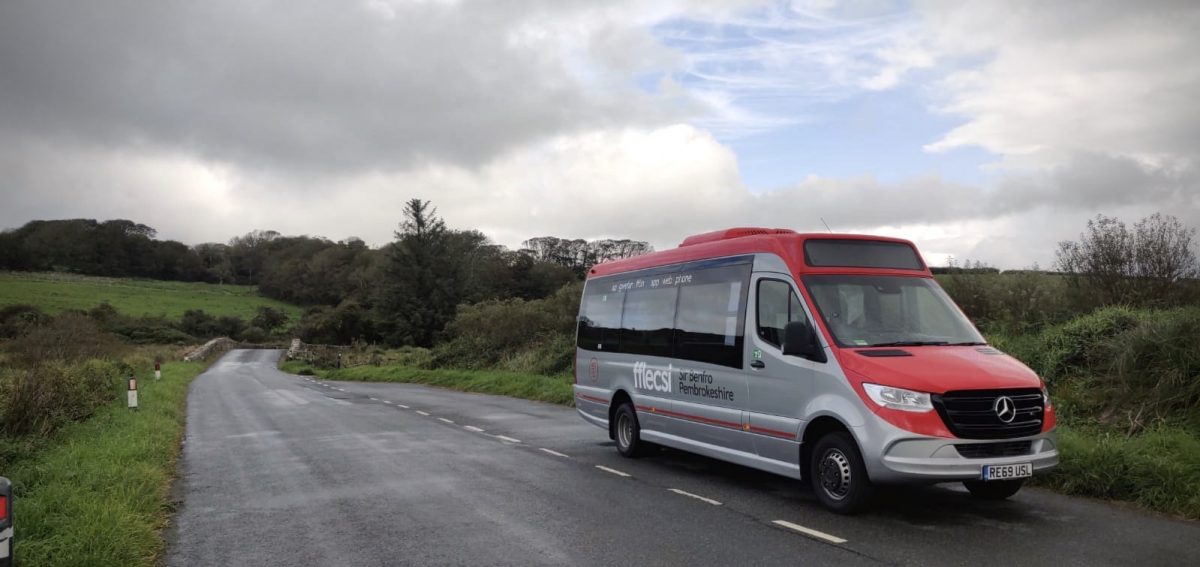 Placemaking and Rural Connectivity – moving people to places
Transport for Wales
Wales has many rural communities and some challenging geography which, along with budgetary constraints, has resulted in a reduction in bus services over the years, and increased reliance on cars to enable people to get to work, education, health appointments and all the other things that we must do in our daily lives.
Transport for Wales is working to improve transport solutions for rural areas in partnership with local and regional transport authorities as part of the Welsh Government's wider bus transformation plans across the country.  This includes revising timetables, changing routes, improving connectivity, increasing frequencies, and simplifying fares and ticketing. We are at the beginning of a journey which will take some time to reach all areas of Wales.
A new type of service introduced in rural (and some urban) areas has been fflecsi, the demand responsive transport (DRT) service which now operates in 11 zones across Wales providing increased access to public transport in areas where services have been complex, limited access and had falling passenger numbers, or, in some cases, had not existed.  DRT is bookable public transport, which doesn't run to a fixed route or timetable but is booked by passengers via an app or by phone, and aggregates those with similar journeys.
Each service is run according to the local requirements, for example in Conwy in North Wales the service runs from 6.30am to enable local hospitality workers to get into Betws-y-Coed in time for their 7.00am shift.  This same service also collects a group of ladies from surrounding villages every Tuesday – giving them time to catch up on the bus journey and helping combat social exclusion. In Pembrokeshire and on the Llyn Peninsula the service is popular with local residents, holidaymakers and walkers who use fflecsi when walking the Coastal Path.
Fflecsi is a bookable service, currently providing more than 25,000 rides per month. Passengers can book on the fflecsi app or by phone and TfW are also introducing third party booking in some locations to enable people to book the service if they don't have access to a phone.  It is a different way of delivering a bus service that forms part of the overall public transport provision here in Wales, however despite the technology involved, it still the interaction with the driver that can make the service a success especially in the rural areas.
Fflecsi needs not necessarily be a bus, it could be a car or other vehicle, the technology provides lots of great data to enable better analysis of the service, identification of hotspots, potential for changes in operating hours to better serve customers and can even change the parameters for walking distance where there might be difficulties in access due to steep hills.
Fflecsi can link up to other local and regional bus services including the Traws Cymru routes, and link to trains, active travel and other forms of transport – it is part of the vision to improve access to services across the country and to drive behaviour change with the ultimate aim of having one network, one timetable and one ticket as outlined in the Welsh Government's Bus Cymru plan.