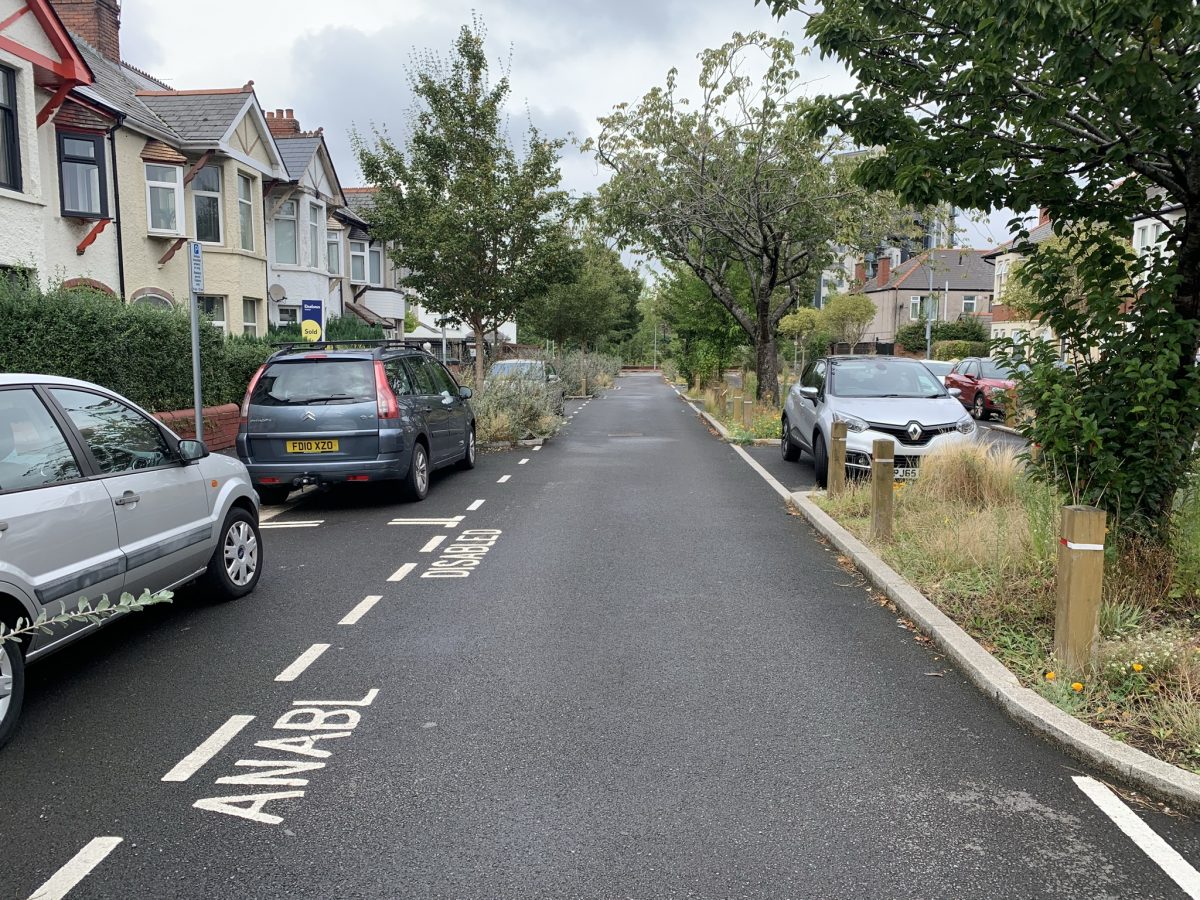 Placemaking, Net Zero and Liveable Neighbourhoods
Jon Tricker, Placemaking Director PJA
In response to the urgent needs of climate change, the transport planning industry is developing new approaches for planning and implementing net zero carbon transport and placemaking solutions in new development and in existing neighbourhoods.
This thinking aligns with the Welsh Transport Strategy (2021) and associated modal strategies such as the Active Travel Act.  Together these moves, along with the general direction set out at COP26 define a carbon reduction journey to 2050, setting out how new green industries will influence the transport sector through hyper-localisation allowing more walking and cycling, and for longer trips, taking the bus or train more and increasingly driving electric vehicles.
Many practitioners are now adopting approaches, which draw on three main principles – Avoid, Shift and Improve.
Avoiding travel can be applied in new and existing places, and can be summarised as internalisation for new stand-alone development, and localisation for existing places and brown field development.
Shifting means more walking, cycling and micro mobility in local neighbourhoods and urban centres, and public transport remaining the mode of choice for medium and long journeys.
Improving is partly about the car or future forms of private transport, which are likely to remain popular, and driving electric cars in outer areas and for some inter-urban journeys will remain important.  However, other benefits can be realised with integration with new travel hubs at city gateways allowing transfer from electric cars to bus rapid transit or rail, so that cities can benefit from de-trafficked core areas.
For new development this means looking at house design and more adaptive approaches to parking.  For the local area, it about embedding more sustainable urban structure and mix of development to provide the services residents require within a short journey of their home, internalising many trips, and managing external private car trips, particularly at peak times and to key destinations where congestion is likely.  These ideas come together in the form of Liveable Neighbourhood principles where active travel solutions are combined with greening of urban realm to create better streets and more liveable neighbourhoods. These ideas may also be combined with new thinking in Mobility Hubs which bring together several transport facilities in a central neighbourhood location.
For existing places, this means optimising land use, retrofitting of walking and cycling infrastructure into local places and managing integration with public transport and the transition to fully electric vehicle fleets. This is not solely a transport solution, but requires buy in from local authorities and businesses to allow services and amenities to be located/relocated to serve a more localised trip pattern for day to day needs, thus helping to create genuine 10-minute neighbourhoods.
Bringing transport planning together with placemaking has never been so important and is demonstrated in many recent and emerging schemes, such as the Greener Grangetown Cardiff project which brings together SuDS, green infrastructure and walking and cycling improvements.  The success at Grangetown sets an important benchmark for neighbourhood improvement in the coming years.